Available Now
Facing death rather than enslavement―a story of one man's triumphant choice and ultimate rise to national hero
It was a mild May morning in Charleston, South Carolina, in 1862, the second year of the Civil War, when a twenty-three-year-old enslaved man named Robert Smalls boldly seized a Confederate steamer. With his wife and two young children hidden on board, Smalls and a small crew ran a gauntlet of heavily armed fortifications in Charleston Harbor and delivered the valuable vessel and the massive guns it carried to nearby Union forces. Smalls' courageous and ingenious act freed him and his family from slavery and immediately made him a Union hero. It also challenged much of the country's view of what African Americans were willing to do for their freedom.
In Be Free or Die, Cate Lineberry tells the remarkable story of Smalls' escape and his many accomplishments during the war, including becoming the first black captain of an Army vessel. In a particularly poignant moment, Smalls even bought the home that he and his mother had once served in as house slaves.
Be Free or Die is a compelling narrative that illuminates Robert Smalls' amazing journey from slave to Union hero and ultimately United States Congressman. It also gives fascinating insight and knowledge into the country's first efforts to help newly freed slaves while also illustrating the many struggles and achievements of African Americans during the war.
BUY THE BOOK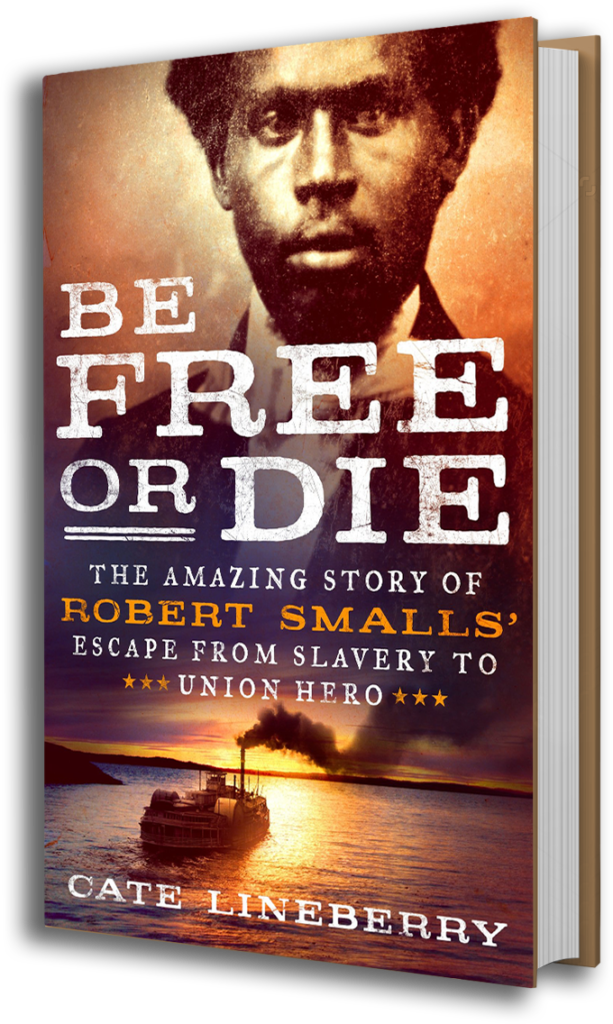 Recent Interviews
Be Free or Die Q & A
What drew you to this story?
I was amazed at Robert Smalls' extraordinary courage and determination during the Civil War. He was unstoppable. Not only did he save himself and his family from slavery by seizing the Planter, a Confederate steamship, and delivering it to the Union, he helped convince the country that African Americans were willing to fight for their freedom. He even delivered orders from the secretary of war to a brigadier general that authorized the first regiment of black soldiers to serve in the U.S. Army. He was also the first African American to captain an Army vessel. And that was just what he accomplished during the war. He later became one of the first black Congressman and served five terms.
Why do you think this story is relevant to readers today?
Robert Smalls is an American hero who triumphed over incredible difficulties. His story is as inspiring as it is riveting, and it showcases so many important aspects of our country's history, particularly the struggles of African Americans during the war and immediately following it. Smalls overcame one challenge after another and often managed to bring whites and blacks together. He even helped the family who had once enslaved him, including allowing his former master's wife stay in his home.
How was the research different for a story set during the Civil War compared to World War II, which is when your first book, The Secret Rescue, was set?
The further back in history you go, the harder it can be to find the kinds of details that make a story come to life. And obviously with a Civil War story, I did not have the ability to interview anyone directly involved in the events, like I did with The Secret Rescue. However, Smalls was such a hero during the Civil War that much of his time and achievements were well documented in newspapers.
Did you spend time in Charleston and Beaufort while writing the story?
Absolutely. I find spending time in places I'm writing about to be essential to my research even if much has changed over time. It's important to have a sense of place and understand how geography and culture impact a story.
Did you contact any of Robert Smalls' family members during your research?
I was fortunate in that Robert Smalls' family is very interested in preserving and promoting his story. His great granddaughter, Dr. Helen Boulware Moore, has created a traveling exhibit on Smalls, and his great, great grandson, Michael Boulware Moore, is the President and CEO of the International African American museum. They have been incredibly supportive of this project.
What did you learn while writing the book that surprised you the most? 
I knew going into the project much of what Robert Smalls had achieved, but it was not until I immersed myself in the details of his story that I fully appreciated just how significant his role was in helping change the country's attitude toward African Americans. It's hard to imagine that many people, even in the North, questioned whether blacks would fight for their freedom and their country. Smalls' daring act on May 13, 1862, and the steps he took afterwards, helped change that. And though he was nearly as famous as Frederick Douglass at the time, today many Americans do not know his story. Smalls deserves to be remembered and honored for his heroism and all that he accomplished.